Summarize thousands of pages of medical records quickly and inexpensively
For cases involving hundreds or thousands of medical records, manually reviewing documents is inefficient, inconsistent, labor intensive, and time consuming.
Lexitas' Record Insights™ extracts medical information and creates a user-friendly report summarizing the medical records. The complete medical history is summarized within a few pages with information displayed chronologically, allowing the user to search and filter the information by medical condition, date, body system, and more.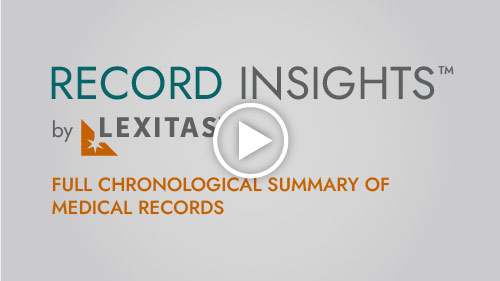 Schedule a demo today to see how it works – your first chronology is free!
Changing the game for medical summaries and chronologies
Accelerate Case Knowledge
Find all instances of medications or conditions in seconds. Handwritten records (e.g. doctor's notes) are searchable. Prep for expert witnesses in minutes - quickly find every mention of the expert in thousands of records.
Reduce Costs
Reduce expensive hours spent manually reviewing medical records. Free up valuable resources for higher-level billable tasks.
Increased Productivity
Receive your Record Insights summary within 2-3 business days rather than waiting for days or weeks, saving time and allowing for faster case decisions.
How it works
Medical records often contain unstructured data, such as images or handwritten documents. Record Insights™ uses natural language processing (NLP) to analyze medical documents and extracts relevant information in a user-friendly report. Users are presented with a case overview of key impairments and recent findings and can view relevant information with an easy-to-use navigation system.
See the benefits
Save Time and Money
Reduce hours spent manually reviewing medical records
Receive your summary within 2-3 business days
$0.25 per page
Increase Productivity
Find all instances of medications or conditions in seconds
Prep for expert witnesses in minutes - quickly find every mention of the expert in thousands of records 
Gain immediate access to the key points of your case
Handwritten records (e.g. doctor's notes) are included in the summary
Robust search capabilities enable you to find key information instantly