Registered Agent & Corporate Services
Join the thousands of companies that have come to expect more from their registered agent.
Request Registered Agent Quote
100K+
Registered Agent Clients
RASi, a Lexitas company, is a professional registered agent organization, providing the best value for corporate and registered agent services through innovative technologies, competitive pricing, and quality service.  With offices in all 50 states, DC and international jurisdictions, RASi represents thousands of companies across the nation.  Whether you are starting or expanding a business; or simply looking for a registered agent with better service and pricing -- RASi ensures you stay compliant with all state and federal regulations  Click the button below to be directed to the RASi home page for more information.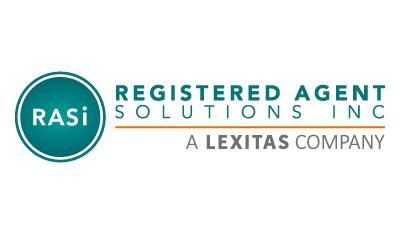 Reliability & Expertise: 20 years in the industry; Experience in virtually all industry verticals, states, and all state compliance requirements.

Personalized Service: Every client has a dedicated customer service team to serve as your points of contact providing responsiveness, reliability & fast turnaround time.

We offer the most competitive price in the registered agent market and are half the price of the larger competitors.

Our complimentary Corpliance portal enables you to easily manage your entity information and handle corporate compliance.
RASi services & technology solutions
Registered Agent
Nearly all states require that a company, specifically corporations, limited liability companies (LLC), limited partnerships (LP) and other corporate entity types, appoint and maintain a registered agent with the Secretary of State (or equivalent agency). The registered agent is a matter of public record and is listed with the relevant state agency.

Registered Agent Solutions, Inc. (RASi) can serve as your registered agent anywhere, nationwide. With RASi as your registered agent, you can be sure that your matters will be handled properly.
Annual Reports
To further ease the burden of corporate compliance, RASi offers fully managed Annual Report Services. Your company is busy enough managing your day-to-day operations, producing products or providing services, doing what you do best. RASi's ARS service includes compliance status checks, form preparations, client approvals (when necessary), state filings, advancement of state fees, confirmation reports and online monitoring.
Kits & Supplies
RASi offers Corporate Kits to accompany the many corporate services provided for all entity types. You may enhance any office with the finest, most complete line of corporation outfits available. These corporate kits are designed for your convenience and to facilitate fast and easy corporate set-up and corporate record keeping. All of our corporate kits use a 3 ring binder to keep your documents securely in place and feature additional pockets to help you stay organized.
UCC/Lien
RASi obtains searches of the public record for UCC and/or lien documents including financing statements, amendments, tax liens, judgement liens or other liens. RASi also files UCC financing statements and/or related amendments with state and local filing offices.
Business Licensing
Each jurisdiction has its own licensing regulations and the requirements to obtain or renew a license vary greatly. Nearly every type of business will be required to obtain some type of business license, whether basic business licenses or industry specific licenses. Some highly regulated industries such as insurance, pharmacy, or construction may require additional licenses beyond the basic business license. RASi can assist with your business licensing needs at the federal, state, county, and municipal levels.
Corpliance
RASi provides each client with complimentary access to Corpliance®, our online account services. The online services offered through Corpliance® range from basic account management features to our fully integrated web applications that ease the burden of corporate compliance. Clients enjoy single account access for multiple entities, customized user administration, including 3rd-party attorney access.
CorpliancePLUS
This web-based application expands upon the already impressive features of the Entity Manager application to provide clients with a comprehensive suite of compliance and entity management tools for unlimited entities. This technology is also available to clients who are not currently using RASi as their registered agent.
Service of Process
Service of process documents are time-sensitive documents that require the immediate attention of the registered agent and client company. In recognition of the importance of these documents and the prompt response that is often required, RASi has developed a service of process system to ensure the proper, reliable, and expedient handling of these documents. RASi will provide same-day imaged scanning of service of process which is accessible through your Corpliance® account.
Independent Director
Independent Directors/Independent Managers sit on the board of Special Purpose Entities (SPEs) or other business entities to protect assets. An Independent Director/Manager is responsible for preventing otherwise solvent SPEs from searching for bankruptcy protection, specifically in occurrences when related or parent entities become insolvent. RASi has been in business for over 20 years and our independent personnel have over 40 years of collective experience with these types of transactions.
Corporate Filing
RASi prepares and files incorporation and formation documents for all entity types. We are very familiar with state guidelines and filing requirements. There are numerous advantages to having RASi handle your incorporation or formation including turn-around time, expedited service options, and the fact that RASi can be appointed as your registered agent in any state.
RASi Affiliate Program
RASi offers an Affiliate Program which is available to companies that provide a complementary service or maintain an appropriate client-base. By combining our strengths, resources and experience with established service companies, we are able to deliver the best solutions to meet clients' needs and exceed their expectations.