Lexitas offers full support for all remote proceedings
As the leader in remote depositions, arbitrations and trials, Lexitas offers full support to attorneys and their teams to keep their discovery schedules moving forward. LegalView, our patented remote proceeding platform, provides a secure, easy-to-use, and completely interactive remote deposition experience for all participants, including the ability to mark and introduce exhibits electronically.
Ease of Use
The internet and computer are all you need.
Flexibility
Connect anywhere to anyone, regardless of hardware or device.
Live 24/7 Monitoring
Lexitas' specialists can monitor every minute of every LegalView deposition to ensure perfect quality. 

Available upon request in some locations.
Online Exhibit Management
Use our LegalView Exhibit Manager platform to upload files to a secure repository, then mark and introduce electronic exhibits online.
Security & Compliance
Military-grade encryption exceeds HIPAA technical safeguard standards.
Unlimited Participation
Interact fully or view proceedings using our virtual "one-way mirror." Perfect for clients, co-counsel, experts and adjusters.
Advanced security
AES-128 bit media encryption SRTP for audio, video and shared content. Chat messages are transmitted over the source of the signaling link.
Secure HTTPS login utilizing industry standard PKI
TLS using strong encryption ciphers for signaling
Password hashing in database
Component blocking for spoof prevention
Encrypted token technology
No login information kept at the desktop
Flexible, high-definition video
Connect through computers, videoconferencing, mobile devices, and phone to the same event.
Videos are recorded in a secure server as H.264 MP4 files using 832x468 resolution with 48-bit AAC audio and stored as encrypted files at rest. Available upon request in some locations.
These videos can be transcoded into any other video format and synchronized with the transcript for use in presentation software such as Sanction or Trial Director.
Scalable Video Coding (SVC) maximizes the quantity over networks of all speeds.
Video Codecs enable connections from 50k/second to 50 MB/sec.
Depending on bandwidth, video will stream as high as 1080p / 30 fps.
Network virtualization
LegalView has the ability to traverse firewalls without compromising the integrity of the private network or requiring additional expensive equipment.
LegalView will automatically detect if it's blocked by firewalls and will automatically switch to configure as needed. If the firewall configuration is known, auto detection can be easily overridden.
Discover the benefits of LegalView Exhibit Manager
LegalView Exhibit Manager is simple to use, making it easy to introduce electronic exhibits in just a few simple steps. Run LegalView Exhibit Manager on your own or request one of our skilled document technicians to oversee the exhibit marking process for you.

Lexitas offers a well-executed exhibit management experience for remote depositions.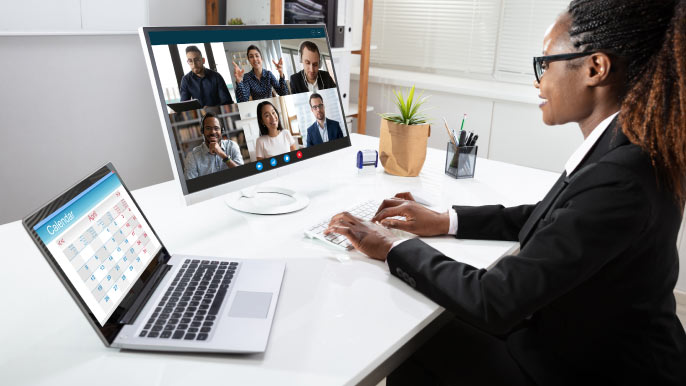 Remote Proceedings FAQs
What do I do if my client does not have a pc and just a phone?
No problem. People can participate via smartphone or tablet. If that's not an option, they can still dial into the deposition with a phone call.
How does the functionality of LegalView differ between laptops, iPads, and iPhone?
iPads have all of the functionality of the desktop app. The mobile phone app isn't as full featured in terms of exhibit sharing and annotation. But their cameras are quite good for doing video calls.
I am on VPN and can't get my camera to work?
VPN can hamper the video stream. Some people have been able to log in a second time and have the ability to stream video. Some VPNs will always block video.
Are we allowed to tell the witness to situate themselves where I can see their hands?
That is a matter for discussion with opposing counsel. We are not aware of any case law which requires the deponent or opposing counsel to show their hands. If this matter is serious enough, it can be discussed with the judge or special master on a case.
Can you set up separate breakout rooms for prepping or collaboration with second chairs?
Yes, just let us know at least a day in advance of the deposition to ensure that everyone is assigned to the correct breakout room.
How are interpreters handled in the video deposition?
Easy! Interpreters are invited to join the event just like the court reporter. They provide the same service that they otherwise would in the deposition...from their home.
How can we go on and off the record?
This is the same as any other deposition. Once all parties agree to go off the record, they inform the court reporter.
How do I handle exhibits?
Pre-marked exhibits can be provided via email to all parties in advance of the proceeding or electronic exhibits can be shared online during the deposition.
How do we make a ruling during the proceeding?
In general, this would be the same as a traditional deposition or a phone deposition - take a break, contact the judge, and have them rule on a particular matter. Unless the judge is anticipating a call to join the deposition, it is unlikely that they will join the event to make a ruling.
How Lexitas ensures the security and privacy of your remote proceeding
All LegalView events are private.
Our meeting links are never posted in a way that the general public can access or search for them.
We do not use repeatable personal meeting IDs for our meetings. Instead, Lexitas uses a randomly-generated secure meeting ID, exclusive to a single meeting.
Our unique meeting IDs are valid only on the day of the proceeding, thereby making it even more secure.
Every LegalView event is hosted. Hosts have total control over the meeting and have the ability to identify and remove any unauthorized participants.
If the witness is in another state - can the reporter swear them in?
It depends on state rules. In general, attorneys can make those stipulations. For the state of New York,
CPLR 3113(d)
permits the attorney to stipulate that "...with respect to civil depositions, a notary may under the specific provisions of Article 31 of the CPLR and in compliance therewith, swear in a remote witnesses..."
I've heard about security problems with online meetings in the news - is it still safe to use this platform for my deposition?
LegalView, our remote deposition platform, has been built to incorporate the scalability, ease of use and ubiquity of best-in-class video applications with our own robust security protocols to protect our clients and their proceedings. Our clients are not vulnerable to the security problems you read about in the news. Lexitas is the market leader in remote deposition technology with over 25,000 successful LegalView sessions with 0 security issues reported.
What stops the witness from getting coached via text or email from their counsel?
Witness coaching is a risk at any deposition. Whether it's done through gentle nudges under a table during the deposition, discussed during off-the-record meetings or sent as text messages during a remote deposition or phone deposition, generally speaking, attorney ethics prevent any egregious witness coaching. Like in face-to-face depositions, opposing counsel should be attentive to signs of witness coaching. Instead of kicking under the table, now attorneys can be attentive to sudden typing or audible indicators of incoming messages. If witness coaching is suspected, there is court precedent for preserving instant messaging and sanctions for malfeasance.
(WEI NGAI, an infant by her Guardian v. OLD NAVY, a subsidiary of GAP, Inc., et al., Civil Action No. 07-5653).
Where will the location be on the appearance page?
Unless the parties stipulate otherwise, the location on the appearance page will be the location from which the deponent testifies. This can be redacted to protect the address of the deponent.